"57 CHANNELS
(AND NOTHIN' ON)"
Why do most radio stations
leave me feeling like a
"Stranger In A Strange Land"?






Because they can.






Competition between
radio station owners
used to prevent
too many ads or
overly bland or
insulting programming.


You could turn the dial
to "the other guy".


Then the 1996 Telecom
Act allowed a huge
merger frenzy so that ...


Now "...
we are the Other Guy",
says George Sosson,
Clear Channel Inc.
senior vice president.




---
In spite of industry claims that
"there's no room for more stations"
and
'there's more diversity than ever' :
FCC Commissioner Gloria Tristani said,
"less than 3% of radio stations are
minority owned ...
Black-owned stations dropped 26%
and
Hispanic-owned stations dropped 9%
between 1995 and 1997."






35% of all advertising revenue
last year went to the top three
[soon to be two] station owner groups:
Chancellor Media/Capstar,

(Chancellor became "AMFM")
Clear Channel/Jacor Communications

(merging with AMFM)
CBS Radio/Infinity Broadcasting
Before the 1996 Telecom Act that
allowed these mergers, the largest
radio chain owned only 38 radio stations.
When the latest AMFM/Clear Channel
merger is complete, they will dominate 830 stations.
NPR ATC 10/5/99
" ...common for two or three companies
to own 80% to 90% of the radio ad revenues
in a market.
In Rochester, N.Y., for example,
14 stations owned by CBS, Jacor and Entercom
held 94% of the radio ad revenues in 1997,
according to Duncan's American Radio, a research firm"
THE BOTTOM LINE:

--Grab The Brass Ring--
The Federal Communication Commission has recently proposed
to open thousands of new
legal frequencies on the FM dial
and restrict their control to
new and local groups/people.
This proposed new set of rules is referred to as the Low Power Radio Service (LPRS).
ALERT: DEADLINE : VOTE ON LPRS IS 1/20/2000!
The LPRS would CREATE COMPETITION
by enabling thousands of new and new local
community, church or small business radio stations to serve those ignored by current radio stations.




A stable society
is an inclusive
and just society.
The LPRS, is designed to encourage a diversity of cultures represented on the airwaves
by encouraging a diversity of ownership/control.

A diversity of people and organizations
with different values and priorities
will create a more inclusive media
(and therefore government policy)
because they will have different definitions
of what is "newsworthy" and "viable"
for sharing on the public's airwaves.


Please urge your federal elected representatives
to write a public letter to the Federal Communications

Commission
in support of a Low Power Radio Service
with strong local and new localonly ownership provisions.
BEFORE FCC VOTE 1/20/00

Click here for more information on vital points on ownership provisions.
(ask your elected representative to use the example of the "Bonior Letter") [click here to read]


If you want to keep updated
SUBSCRIBE TO LPRS-E-ZINE (FREE)

THANK-YOU for
contacting your
Senator/Congressperson.

Thank-you for reading all this
and considering helping us
create a radio dial as diverse
as the population that listens
and pays taxes to regulate it.











DEADLINE IS NOW 1/20/2000
RESTORE
FREE
ENTERPRISE
RESTORE
COMPETITION

---

Please call your representatives
in Congress and the Senate
and urge them to support the Low Power Radio Service that would open thousands of new frequencies on the FM band for people like you to be heard.

Lookup
Your Congressmen
and Senators
by ZIP Code HERE
---
Unrepresentative
Radio is
Taxation
Without
Representation
---
UPDATES:

1) FCC moves up vote on the Low Power Radio Service to 1/20/00 ... BEFORE the vitally linked Digital Audio Broadcasting (IBOC) proceedings are finished.
WHAT DOES THAT MEAN FOR COMMUNITY DEMOCRATIC RADIO?
2) "Goliath" will now

attempt to kill Community
Radio with the Digital Radio Farce.

3) Allies of Big

Broadcasters in Congress
are attempting to threaten
FCC with "Reauthorization Hearings."


4) Failing that, friends of

monopoly are taking a direct assault ...
Rep Oxley has sponsored HR3439,
The "Radio Broadcasting Preservation Act of 1999" That would specifically kill the Low Power Radio Service by preserving the near monopoly that the big broadcasters enjoy at taxpayer expense.

A stable society
is an inclusive
and just society.


A healthy democracy hears from everyone, not just the
beautiful or profitable people.


WHY doesn't the
"Almighty Market"
Serve Everyone?


Media is the
lifeblood of
a Free Society",
Newt Gingrich, 1994
AMMO:

What to say when someone says "What's the problem?"

Radio Station
Ownership Changes
(Less decision makers
... for more stations)
1997
5,222
owners controlling
10,246 stations
1998
4,241
owners controlling
10,636 stations
# of owners
DOWN
18.7%
# of stations
UP
03.8%
ACTION:
What you can do to solve the problem of an
unrepresentative radio dial.


(Critiques)

"Information is the currency of democracy.",


Full Index of documents
on this web site as
well as the hundreds
of links to the outside
world.
SELECTED LINKS:
OTHER VOICES: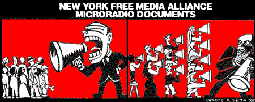 Dead Air: When the FCC destroys "pirate" community radio, it also destroys the community
KIND Radio: An example of a "pirate" radio station helping the community